I help women open the door to pleasure...
Female Empowerment,
Love & Sexuality 
with Rahel Landolt
Trauma-Informed & Somatic-Based.
Learn More
Free Audio: Get "Out Of the Head" & Into Your Body
This short practice is an answer to one of the most frequent questions I hear from women when it comes to sexuality. Simple and powerful, the more regularly you practice, the more potent this medicine becomes. Doing so, it can also support you in re-establishing sensitivity in your body, getting away from self-criticism & body-judgment, allowing all that is to be here, including emotions (so key in female sexuality!), reclaiming your turn-on, sensuality & pleasure and hence coming back home to yourself, a sense of wholeness - connected to your natural confidence, intuition & inherent wisdom.
Get Access Here
Supported, Guided & Celebrated at Each Step of The Journey...
1:1 Coaching
The most intimate way to work with me, my coaching container allows for deep transformation to take place. Based on the somatic-based & trauma-informed VITA™ Sex, Love & Relationship Coaching methodology, as well as my own lived experience, I delight in helping women open the door to pleasure.


Dive Deeper
In Groups
SENSUAL SUNDAYS: For you to get more confident & celebratory of your sexuality, connect with your deep femininity, and tap into your inherent wisdom & truth. Combining EMBODIMENT - NEW NARRATIVES - SHARING IN SISTERHOOD. Learn more here or check my IG @rahellandolt to learn about all my current offerings, online & in-person.
*picture taken for Devi School by Be Woman Project. 
Join SENSUAL SUNDAYS
Es war eine wunderschöne und äusserst inspirierende Reise mit Rahel als Coach, denn sie konnte mich auf den Pfad bringen, wieder viel mehr Lust in mein Leben zu bringen! Das nicht zwingend auf eine sexuelle Art und Weise, sondern vielmehr in meinem Alltag, wo ich mich nun immer wieder frage: Habe ich Lust darauf? Und wenn die Antwort nein ist, zu lernen, es nicht zu tun oder anders anzugehen, dass ich dann mit ganzem Herzen dabei sein kann. Ich kann Rahel als Coach nur wärmstens empfehlen, denn sie kann wirklich auf einem eingehen und hört hin und lebt vor, was sie coachte, weshalb ich das Coaching sehr authentisch fand.
– Tina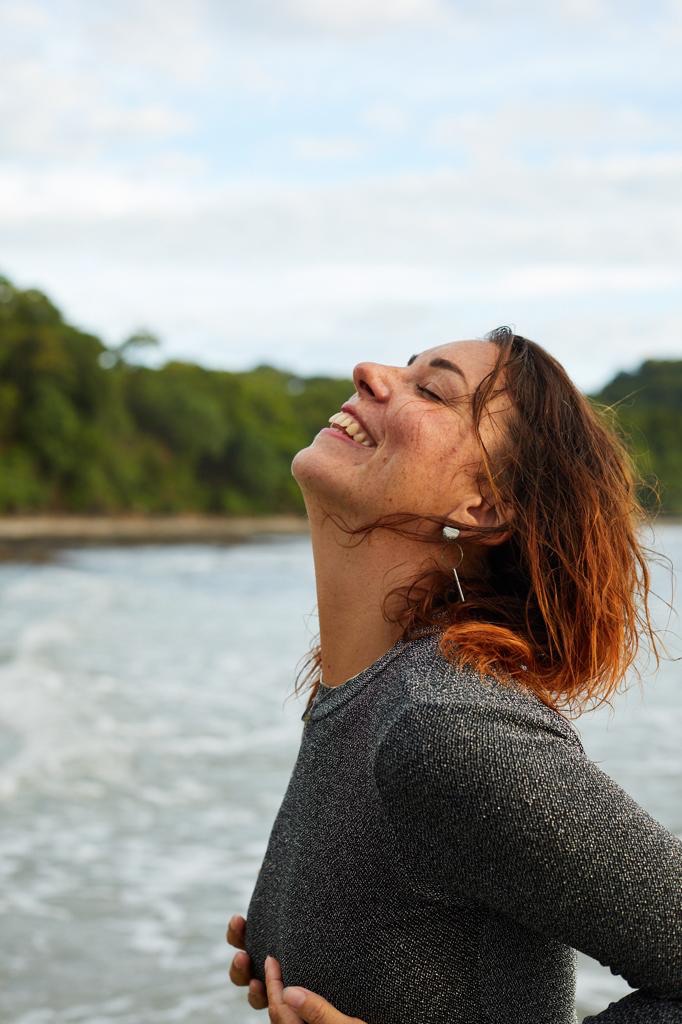 Rahel begleitet mich seit gut 8 Monaten auf meinem Weg in die Sichtbarkeit und Selbstsicherheit - egal was passiert. Mit ihrer ruhigen, reflektierten und gekonnt heraus kitzelnden Art hilft sie mir ein ums andere mal dabei, ich selbst zu sein und mich mit meinem Herzensbusiness in die Öffentlichkeit zu wagen. Als wir starteten, war ich gefangen in grenzenlosen Beziehungen, die mir immer wieder zurück reflektierten, dass ich nicht genug bin. Ich träumte von eigenen Events und ertappte mich immer wieder dabei, Ausreden zu finden, warum ich es nicht wagen könnte. Und Rahel hat mich immer wieder zu meinem wahren Selbst, meiner Vision und meiner Stärke zurückgeführt, indem sie mir offen und ehrlich zurückreflektiert hat, was sie sieht. Sie hat mich in meinem schier unendlichen Schmerz gehalten, als hätte sie nie etwas anderes getan und mich zurück in meine Mitte geführt. Mit Rahel kann ich so tief in die verschiedenen Anteile in mir spüren, wie noch niemals zuvor, weil ich das Gefühl habe, sie mit nichts erschüttern zu können. Rahel bietet mir mit ihrer liebevollen, geerdeten Haltung einen sicheren Hafen von dem aus ich in Ruhe die Stürme meiner Innenwelt erforschen kann ohne den Überblick zu verlieren. Und am Ende führt sie mich immer zu meiner größten inneren Weisheit, tiefer Lebensfreude und spektakulären Integrationsmomenten. Ich liebe es einfach, dass ich mich bei Rahel so fallenlassen und ihr meine Abgründe anvertrauen kann! Rahel hat mir gezeigt, wie mein Schmerz zu Gold werden kann, wie ich Stärke in meinen Schwächen finde und wie ich Grenzen setze, wo ich bisher grenzenlos war. Durch Rahels Empowerment habe ich ein völlig Level an Selbstliebe und Selbstsicherheit erlangt von dem ich jahrelang nicht mal zu träumen gewagt hätte…
Ich danke dir so sehr für deine liebevolle Begleitung in allen Lebenslagen, dein Anfeuern ohne Druck, dein Verständnis für die tiefsten Gefühle und deine authentisch einfühlsame Badass-Energie in den letzten Monaten! Du bist großartig! Und jetzt: Lass uns zusammen die Welt verändern!!!
– Sina Pauline
This journey with Rahel has been such an awakening of pleasure for me. Transformative. With her coaching I have discovered so much wisdom through the practice of pleasure. The embodiment practices.. have been incredibly healing. I feel so much has evolved since our first session, I understand myself better, and I can hold myself with compassion and kindness, which I never knew how to. Rahel has guided me through the dark places of my soul with so much care and safety. I felt her deep and gentle support, we also laughed and it reminded me how life can be light and soft. Every session was a transformation, I got closer to my Self every time. Tears.. I am so grateful I have embarked on this journey with Rahel. She accepted me as I am. I felt seen.. held and safe by her guidance, her presence. Embodying the Goddess.. wow, realizing we are all Goddess, and living a life from pleasure, feeling so worthy. Thank you Rahel for guiding me on this path towards freedom!
– Lucilla Gould
Das Coaching mit Rahel hat mich sehr unterstützt dabei, mehr Stabilität und finanzielle Fülle in mein Leben zu bringen. Mein Ziel war, meine Begeisterung wiederzufinden und mehr Freude und Leichtigkeit in mein Business und andere Lebensaspekte zu bringen und vor allem eine bessere Work Life Balance zu finden. Ein halbes Jahr später bin ich glücklich mit einem gutbezahlten Nebenjob und meine Praxis läuft super, ohne dass ich etwas dafür tun muss. Von zuvor gestresst, überfordert und von Schlafstörungen geplagt fühle ich mich heute ausgeglichen, zufrieden und voller Vertrauen ins Leben.
Was ich an der Begleitung von Rahel sehr schätze ist ihre fröhliche, aufmunternde Art, ihre Fähigkeit, zuzuhören, das Wesentliche zu erfassen und mehr Klarheit in verstrickte Themen zu bringen. Mit ihrer Unterstützung konnte ich Blockaden lösen, die mich daran gehindert haben, Dinge anzupacken. Das Coaching war eine sehr kraftvolle, ermächtigende Erfahrung, die mir geholfen hat, wirklich bei mir anzukommen und mehr Selbstvertrauen zu gewinnen.
 –  Katharina Lalita Devi
Coaching with Rahel has been real fun, which is interesting because the matter we worked through was very raw and painful, too. Yet I felt such excitement from both of us. the journey was so juicy and the findings ever rich. In the sessions we would first check into what is alive in me and wants to be processed, then Rahel often had multiple options on how to shape that specific session. I could taste the time and love she has put into her training as a coach and it brought a richness to the field, in which I felt held. I also felt a beautiful equality of our beings during these sessions. Though she undoubtedly was the well-trained, fit-for-the-job man-with-the-plan, she gracefully positioned herself next to me and never above me. I'm also impressed with Rahel's flexibility. I've got a wild imagination and when I explore my inner landscapes it can go anywhere and become quite complex. Rahel could follow me into the depth with a gentle clear energy, asking the right questions at the right time, bringing me back to my own train of thought, paraphrasing, checking, repeating, reflecting. With her by my side I found new ways to understand myself deeper. One gem I've learned through Rahel is that there is a beauty and a wisdom in the things that are not clear yet. I've come to be more patient with the unfolding of life and learn to respect and honor the parts of me that are in transition. It was a beautiful, fun, deep and raw journey to work with Rahel. I might come back to her. One is never done on the path of self exploration and she sure is a good one to ride it with.
— Eva Luna
With Rahel, I've felt courageous enough to look at some of the harsh issues I carry – I would not have done that without her. I've discovered that those issues are never as huge as they feel, never overwhelm me as I fear and always turn out to be Little Ones – parts of me who, once upon a time, felt unsafe and who I can now turn to with loving reassurance. The inner child work we did brought a big breakthrough for me. Since then, it has been so much easier and more accesible for me to feel self-compassion and self-love – as being compassionate and non-judgemental towards a child is so natural. There is always so much love, curiosity and tenderness present, plus the total absent of judgement or hurry, Rahel opens up and holds such a safe place for me. Thank you from my heart to yours.
— Joanna
What a deep and wonderful journey with Rahel! Working with her has been pure magic for me and of great help. During the last few months I enjoyed her guidance and coaching. What I appreciate most is her compassionate spaceholding and all her different tools to approach the inner world. There have been moments of grief, pain, joy, transformation... In all the coaching sessions we did, Rahel met me where I was and was able to really accompany the inner process. She brings a lot of creativity, personality and a playful touch to her work. I was able to fully trust her. With her support and the methods she knows, some important shifts happened and a few channels opened up inside. Thank you from my heart for everything.
— Milena Colla
I absolutely loved my session with Rahel. She is very kind and wise, her coaching helped me questioned my own blockings and fears… she guided me step by step…. letting them be in order to accept and understand them. She also gave me tools for when I feel like I need to ground myself, connect once again with my inner wisdom. I'm very grateful for the time she took and all the understanding, the love and the knowledge that she shared, and keeps sharing.
— Sofia
I can hardly believe that we went through such a journey in the past hour. It feels unreal and yet is so real. Waaaawwwww.
Rahel made possible something incredible. She keeps a very neutral standpoint. She's lending her voice to the exercise, doesn't intend to influence things. I think it's the key to healing when somebody can do that. It allows the person to connect with their own answer. Each session I've had with Rahel was a deep healing journey. I can now feel into my body and reach for the answers to my questions in it. Infinite gratitude.
— Cecilia Kearly
I'm so greatful for the two sessions with Rahel. I never thought of solving my problem in this way. By visualizing a vision that I expected, then to feel my body. I love Rahel's nice smile, her gentle voice, her patience, and also the beautiful sunshine, the nice tropical view outside the window, they all eased and encouraged me so much.
— Maggie
Since my three sessions with Rahel, I've been having less expectations from my partner and taking more responsibility for my own needs - which has been improving and bringing clarity into the relationship with my boyfriend. I don't know if coaching is rather new in Europe, but I believe everybody would need it! I got a lot from psychotherapy - yet it doesn't give the same results as coaching.
— Viviane
Rahel's Mut, hinzusehen, auch wenn es nicht das ist, was man von sich selbst sehen möchte, bewundere ich. In ihren Coachings inspiriert sie als Vorbild, gibt wunderbare, transformierende Denkanstösse und bringt tiefgehende Tools mit. Sie hält den Raum für das Unperfekte, das Verletzliche und Schmerzhafte, aber auch für das Schöne, Berührende, Leichte und Süsse. Sie steht dir als Frau, als Freundin zur Seite und versteht. Und das ist so unglaublich wertvoll! Danke dir von Herzen, Rahel.
— Eveline
Subscribe to my Loveletter
...on all things female empowerment, love & sexuality in a trauma- informed as well as somatic- & pleasure-based way. Receive inspiration, resources, practices as well as the latest updates on my 1:1 & group offerings.
You can unsubscribe at any time.
DISCLAIMER: Rahel Landolt is not acting as a mental health counsellor or a medical professional. Therefore, her services are not offered as a substitute for professional mental health care or medical care and are not intended to diagnose, treat or cure any mental health or medical conditions.
Copyright © 2023 – Rahel Landolt